I didn't mention this one in my last post, well, because it was Valentine's Day, but there is another reason that 23 Design Co. made the final cut. Right about the time I began search for the perfect name, our kids began memorizing Psalm 23 (mentioned in this
Sunday Meditation
). I was reminded that I have every single thing I need and in this world of wants and trying to keep up with styles (both in my home and in what I wear), I felt like having the constant reminder of Psalm 23 will help me keep focused.
How have do I try and live this while decorating? (And I do fail often so I'm not claiming to have this down yet...that's why I need the reminder!)
Re-purpose what I already have...I have taken a can of black/white/silver spray paint to a ridiculous amount of surfaces in this house. Whether it's to touch up or to create a new look, this is a great way to change it up for almost free.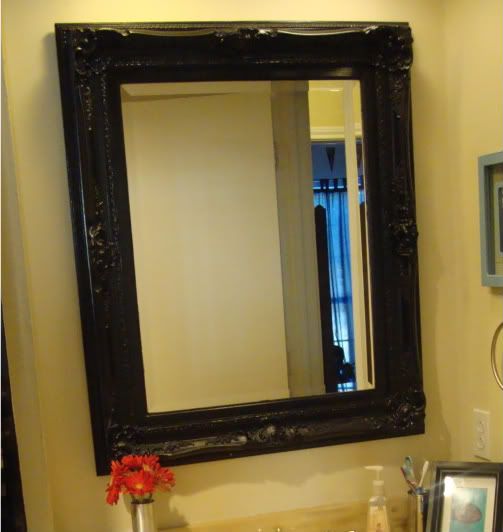 This beveled mirror that came with our house was a gaudy gold...much better now!
Shop thrift stores, garage sales, etc. Keep an open mind....some of my "ugliest" finds have become some of my most-complimented items with a little touch-ups. Also, with clothes, especially for kids, you can have them looking great on the smallest of budgets!
Think outside the box. For example, I needed to revamp my kids homework and project center. I decided to take my old silverware caddy that has not gotten much use at this house and organize it all probably better than any product I could have bought.

This caddy works so much better than trying to keep all these in their boxes
Shop your house...when focusing on one room, instead of making a list and heading to the store for your accessories, look what items can be better used in the room you are working on.
Check the clearance racks first in every store you go in...whether it's Target, Ikea, Pottery Barn, or wherever you are...you may find exactly what you need for a fraction of the price, just by finding the clearance bin....and remember KEEP YOUR MIND OPEN! : )
Pottery Barn luminaries, $29.00 down to $1.97
This list could on for quite a while, but I'll leave those few thoughts for you all to think about for now. There is nothing wrong with spending a good amount of money on a piece for your home (if you have it, of course), but keeping focused on remembering that you have everything you need and the rest is just icing on the cake can help keep it all in perspective.
I'd love to hear your ideas...I know there are some thrifty and creative minds out there!