Ok, this is not going to become a make-up and hair blog....that's really not me at all. In fact, I am about as low maintenance as it gets as far as all that goes. I like cheap, fast and EASY! I've gone the expensive route (before 4 kids, when I had more money to spend on all that : )) and I've found that there are not too many things that I can't find a good cheap alternative to.
Anyway....I say all that to say....I've been trying to grow my hair out and I've been checking out ways to do so so that it looks as healthy as possible. One thing, I've read over and over is to NOT wash it every day. I'm one of those girls, that if I don't wash everyday, I look greasy and gnarly. SOOOO....I'd read to try a dry shampoo product and while I was shopping at Wal-Mart the other day I saw that the Suave Professional line came out with one...so I could try it for under $3. And the verdict is...I LOVE IT! I can finally go a day between washings and my hair doesn't look like it needs a good scrubbing. :)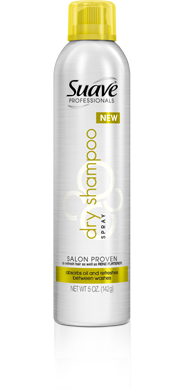 So, I know there are some other hidden "gems" out there...what is your favorite product? Do you have a favorite lip gloss that reminds of you of a designer brand? Or maybe you have a non-beauty product that works wonders for you in a unconventional way? I'd love to try some new things...to hopefully make my beauty regimen even easier!
HOW TO ENTER?
Post a comment on this post about your favorite under $5 product and I will randomly pick (using random.org) the winner and will send a bottle of my new favorite product. Contest will end Sunday (March 6) at midnight. Only 1 entry per person. An additional entry can be made by "liking" 23 Design Co. on Facebook (Just leave another comment saying you did so).